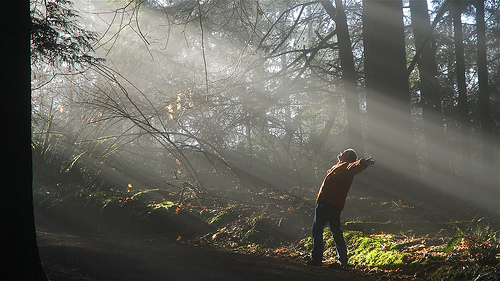 Not only do I love the sound of this application,
WORDLE
(Beautiful Word Clouds) , I love this application all around! Yes, for a romantic "techo geek"! This week Matt and I, a little bored with novel study questions on
The Old Man and The Sea,
by Ernest Hemingway (which by the way is an excellent read for grade 9 boys), decided to spice things up by adding Wordle!
Motivating him to write a paragraph on why God allows difficult things to happen to people, I sent him to his novel study and Wordle. Once he figured out the application which is very simple, we brainstormed some descriptive words that would enhance his writing and Wordle when complete. He was motivated to write about his protagonist Santiago, and share it artistically as a front page to his paragraph.
So what is Wordle? Wordle is a toy for generating "word clouds" from text that you provide. The clouds give greater prominence to words that appear more frequently in the source text. You can tweak your clouds with different fonts, layouts, and color schemes. The images you create with Wordle are yours to use however you like. You can print them out, or save them to the Wordle gallery to share with your friends. When your student writes an essay you can encourage them to copy and paste to Wordle and voila, you have a lovely essay title page. You can apply this to poetry samples as well. If you want the image link make sure you don't paste the whole html link they give you, only the image link.
Some of our students are blogging, and Angela Paine sent me their blog sites to share:) Here they are:
Samara
who is 10 years old, has a lovely colourful blog all about her daily life.
Robyn
who is 13 years old writes about her daily reflections.
I would love to hear about other bloggers......please send me your blog sites and student's sites so that we can share with other potential bloggers.
PS Note to all Gloggers: there is now an educational component which is safer for younger "Gloggers", called
Edu Glogger.
Hope you are having fun Glogging, Blogging and making Wordles!
Yours In Christ
Pippa Davies